News / Announcements / Upcoming Events:
Please note:
– Make sure to check the

calendar

for weekly activities, meetings and Bible study times.
–
Youth
and

Sunday School

announcements

are located under the "Get Involved" tab.
– For descriptions of Bible studies currently being offered, look under the "Get Involved" t

ab.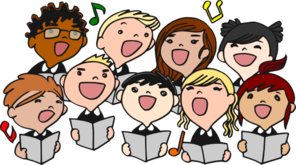 Sunday School Children Singing in Church: (Oct 29)
The Sunday School Pre-K thru 4th Grade children will be singing at the beginning of both worship services on Sunday, October 29. The kids need to be at the church by 8 am to be ready for the 8:15 am service that morning.
Ladies – Come check out LWML: (next meeting is Oct 19)
LWML meetings have started back up. We meet at 6 pm on the 3rd Thursday of the month. All women regardless of age are invited to join. Even if you couldn't attend the 1st meeting, you are still welcome to come as it fits your schedule. There are a ton of activities coming up yet in 2017 – so even if you can't attend the monthly meetings, consider teaming up on a committee to help make things happen.
Your participation in LWML is a great way to make new friends within the church. And, at the same time, you will be Serving the Lord!
Our next LWML meeting will be at 6 p.m. on Thursday, Oct. 19. This will be potluck style, so bring a dish to share. We'll start with our meal, devotion and on to the agenda at hand.
November Newsletter Articles are Due:
Please turn in any articles it to the office by Tuesday, Oct 24. Thanks.
Ladies: Sign Up To Help During a Worship Service in October
In addition to LWML Sunday, October is also breast cancer awareness month. During the month of October, we would love to have the women of our congregation being the ushers, greeters, readers and running the powerpoint during the worship services. You need not be an active LWML member to participate. If you would like to assist with a service, please
click here to sign up
.
New Pictorial Directory: (Sign up now to schedule your photography appointment)
Update 10/12/17: Additional

dates added

in November!
Beautiful Savior is in the process of creating a new Pictorial Directory. We would love to have all members of our congregation be included in this photo directory. Every family that is photographed will receive a free 8×10 portrait and a free printed directory. Upcoming photography dates include:
Thursday, Nov 2 (NEW), Friday, Nov 3 (NEW), Saturday, Nov 4 (NEW),
Monday, Nov 20 and Tuesday, Nov 21. December dates are: Wednesday, Dec 27 and Thursday, Dec 28. Go to the "Directory" page of this website for more information and to schedule your family photography appointment.
Perry Center "Baby Shower": (Donations currently being accepted)
As part of their Zone Fall Rally, the LWML is collecting items for the
Perry Center
in West Fargo.
Items needed
:
new baby clothes, diapers, wipes, blankets, bath essentials, baby toys. If you would like to donate to the Perry Center thru the LWML Zone Rally, please drop off your items in the church office before Friday, Oct 27.
Trunk or Treat: (Volunteers and Cars ~ Sign up Now)
Trunk or Treat will be on Wednesday, October 25 from 6:30-8 p.m. If you would like to assist that evening with the activities or you would like to decorate your vehicle and hand out treats, please visit with Pastor Chris for details. All members are welcome to join in on the fun!
Tiller Help Needed for Our Beautiful Garden:
The Beautiful Savior Garden Group is wondering if anyone in the congregation has a little garden tractor with a tiller.
The garden needs to be tilled this fall. If so, please contact Tim Deitemeyer by phone 701-793-2220 or by e-mail at tim.deitemeyer@hotmail.com.
Singers Needed for Main Street Living North Recording: (Nov 4)
Main Street Living North (our LCMS recorded TV church program) choir will meet at Immanuel Lutheran (1258 N. Broadway) on Saturday, Nov 4 from 12:30-3 p.m. to practice and record. Ramsey would love to have as many singers as possible. Mark your calendars and he hopes to see you at Immanuel that Saturday.
MSLN is a Lutheran Television Program that is endorsed by the LCMS. The program is financially supported through the support of the viewers and congregations of the viewing area. MSLN broadcasts each Sunday at 10:00 am, followed by a children's program at 10:30 am on TV station KVRR. The choir is video'd singing Lutheran hymns which are then included in a future broadcast of the program. You do not have to be part of our choir in order to participate. If you would like more information about MSLN or want to watch a previous broadcast, go to:
mainstreetlivingnorth.com
.
LWML Christmas Tea: (Hostesses Needed)
Preparation is underway for our third annual Christmas Tea that will be held Sunday, Dec 3 at 4 pm. Hostesses are needed for this year's tea. Thank you to all who hosted last year. This year the hostesses will bring, plate and serve the dessert for their table. Please let Jodi know if you would like to take part by calling her at 1-320-282-6584 or e-mail her at jhaekenk@cord.edu . Or visit with any of the committee members: Kay Osman, Karen Mart Taverna, Carrie Berglind, Carol LeMier or Mary Seiffert. "He is the Reason for the Season!" Thank you!
Sunday School Teachers Still Needed: (as of Oct 16)
We are still looking for help on Sunday mornings for Sunday School. We are looking for teachers or team teachers for 2nd and 5th grades, substitutes and memory work helpers. If interested, please contact Bobbi Hestdalen at 701-540-2218 or the church office.
October is Pastor Appreciation Month:
October is Pastor Appreciation month. We are hoping to fill the calendar with 31 Days of Prayer for our Pastor. Sign up for one of the days in the month of October. On that day, pray for Pastor Chris and let him know how much he is appreciated.
(Update as of Oct 1st: We are happy to announce that we have all 31 days covered. However, if you would still like to participate, feel free to pray for Pastor Chris any day that you would like to. You are also welcome to send him a card, etc. Receiving more than 1 card on any day is always nice!)
BSLC Food Drive: (November)
November is a great time to give thanks for all God has blessed us with and to help others who may be in need. Please bring canned goods (check expiration dates), non-perishable food items, paper products and gift cards to food stores to the table in the narthex by Sunday, Nov 22.
Auction Items for the Christmas Tea:
The LWML is looking for auction items for their Christmas Tea. If you have an item to donate or a suggestion, please visit with Mary Seiffert.
Volunteer Greeters Needed for the Family Photo Sessions:
Volunteers are needed to work at the sign-in table during the family Photo Sessions. This is a very simple job. Just log in the families, make certain we have the correct information for each family, fill in the missing information legibly, and show them where to go for their picture at their assigned time. It's also a great way to meet some of your fellow church members!
Do you have Pictures from Church Events?
If you have pictures from church events and are willing to share them, please let the office know. You just never know where we might use them… Thanks!
Hurricane Relief: (How can I help?)
Your prayers and support for victims and for the rescue efforts of the recent hurricanes are needed. Prayer:
"Holy Father, as the images of devastation continue to flood in, Your children turn to You in prayer. Remember all whose lives have been shaken, and hold them in Your everlasting arms. Remember all whose property has been lost, and remind them of the unfading inheritance Your Son has prepared for Your children in heaven. Remember all who work to bring rescue and support to those imperiled, and fill them with courage. Use all Your people as agents of Your divine love and witnesses to our everlasting hope. We ask it in the name of Jesus, our Lord. Amen."
Electronic Giving:
Did you know that BSLC participates in the Simply Giving electronic giving program as a way to automate your regular offering? Electronic giving offers convenience for all our members and provides much-needed donation consistency for our church. Simply Giving is a secure direct debit giving program used to automatically transfer funds from your checking or savings account to the church's bank account.
As you consider future contributions, please think about electronic giving. The authorization form can be printed from the "Resources / Forms" tab of this website or can be picked up in the church office. If you have any questions, please feel free to visit with Vicki in the church office.
Call Committee Update:
Now that we have a Senior Pastor in place, the Call Committee will continue the process of determining the future needs for Beautiful Savior. Our work will be detailed around your feedback provided in the surveys. Again, thank you to all those who provided feedback.
Opportunities to Get Involved at BSLC:
Have you ever wondered if you could be an usher or greeter on Sunday mornings? Have you thought you might enjoy singing with the choir or playing in the praise band? Do you have a gift for prayer, sewing, gardening, working with children or teens, or planning activities? These are just some of the ways you can contribute your gifts and talents at Beautiful Savior. For a more complete list of opportunities, take a look under the "Get Involved" tab of this website. Or if you would like to learn more about any of these or want to know how you can serve our congregation, please visit with Jennifer Krause or any member of the Church Council.
1 Corinthians 12:27 "Now you are the body of Christ, and each one of you is a part of it."
Address and Phone Number(s) Changes:
If you have moved, dropped your landline or have a new phone number, please let the church office know. You can inform us of the changes by calling, emailing or leaving a note in the office with the new information. Thank you.
Christian Chicks Bookclub:
T
he next book we will be reading is "The Second Half" by Lauraine Snelling. The n

ext books after "The Second Half" will be: "Angel Sister" by Ann H Gabhart and "Any Dream will Do" by Debbie Macomber.

All three books are available through the library system. There may be a wait list on the Debbie Macomber book which is why I put it second, to give people a chance to reserve it.
If you have questions or want to find out more, please e-mail ChicksBC16@gmail.com.
Trunk or Treat: (Oct 25)
Save the Date: All kids from the congregation and their families are invited to come to church Wednesday, Oct. 25, from 6:30-8 pm for Beautiful Savior's Trunk or Treat. For those from preschool in fifth grade, come show off your costume and grab some treats in a fun, safe environment. For those in sixth grade through twelfth grade, we need you to sponsor a car where you will hand out candy from your trunk. There are several prizes, including gift cards for best costume (sixth grade and up), best car decoration and best treats. Adults: If you would like to assist that evening with the activities or you would like to decorate your vehicle and hand out treats, please visit with Pastor Chris for details. All members are welcome to join in on the fun!
LWML Fall Rally: (Oct 28)
Save the Date:
The LWML Eastern Zone Fall Rally is scheduled for Saturday, October 28 at Immanuel Lutheran Church. As part of the rally, we are collecting items for the
Perry Center in West Fargo.
Items needed
:

new baby clothes, diapers, wipes, blankets, bath essentials, baby toys. If you wish to give to this effort, but can't attend on the 28th, leave your gift at BSLC and mark it for "LWML Zone Rally Oct 28". We will make sure it gets there!
Loose Change Sundays: (next Mites Day is Oct 29)
Thank you to all who dropped their loose change into the Mite Box on the 5th Sundays in April and July. A total of $83.74 was donated on April 30th and $103.80 was collected July 30th. Combined Mite Box contributions amount to millions of dollars that fund district and national mission grants. To see a list of the current recipients of the Mite Box donations, go to the LWML page located under the "Get Involved" tab of this website.
500th Anniversary of the Reformation: (Oct 31)
The year 2017 is the 500th anniversary of the Reformation (1517-2017).
Also note: Our Sunday morning Bible study will focus on the Lutheran Hour's A Man Named Martin-Part 2: The Moment. For more information on this Bible study, go to the "Get Involved" tab.
encourageMEN

t

Presentation: (Nov 4)
Fargo's LCMS Men's Ministry "Encouragement" will be hosting a presentation based on the book "The Collapse of Parenting" on Saturday, Nov. 4 from 8:45-11:55 a.m. at Grace Lutheran School. John Hagge, the Principal at Grace Lutheran School will be the presenter. Please RSVP to encourageMENt@gracefargo.org.
rePurposing Lives Dessert Social & Fundraiser: (Nov 7)
Jail Chaplains are sponsoring a Dessert Social & Fundraiser on Tuesday, Nov 7 at the Holiday Inn. Silent Auction starts at 5:30 pm ~ Live Auction at 6:45 and Program begins at 7 pm. Tickets are $15 each or sponsor a table for $250 (10 seats). Tickets available at
jailchaplains.com
.
Installation Service for Pastor Chris: (Nov 12)
Beautiful Savior will have an installation service for Pastor Chris on Sunday, Nov 12 at 5 pm. All members of the congregation are invited. Please plan to attend this special event.
Comedy for a Cause: (Nov 14)
The Red River Youth for Christ is hosting its 4th annual comedy fundraiser on Tuesday, Nov 14 from 6:40-8:40 pm at Bethel Church. It is an evening to connect with a local non-profit, enjoy a family-friendly comedy show, and laugh uncontrollably. Comedy for the evening will be provided by John Crist. Along with John, we will be sharing about our work with teens in the F-M area. Cost is $15 per person – $12 each for groups of 10+. Tickets available online at:
www.redriveryfc.com/events/comedy
Grief During the Holidays: (Nov 16)
Managing grief in times of celebration can be overwhelming. Hospice of the Red River Valley is hosting a presentation to enable attendees to identify and learn how to manage the mixed and painful emotions that can surface when grieving during the holidays. Thursday, Nov 16 from 3-4:30 pm at the HRRV. Free and open to the public, no pre-registration is required. For additional information, call (800) 237-4629 and ask for bereavement dept.
LWML Munchies for Missions and Christmas Tea: (Dec 3)
Save the Date: On December 3rd, the LWML will once again be having their fund-raiser "Munchies for Missions" just in time for you to buy your Christmas goodies. The Women's Christmas Tea will also be held that afternoon. Watch for more details as the events get closer.
Grace Lutheran School Musical: (Dec 14)
Save the Date: Grace Lutheran School will be having their musical on Thursday, Dec 14 at 7 pm. Please plan on attending.
Children's Christmas Programs: (Dec 17)
Save the Date: The Children's Christmas Programs will be held on Sunday, December 17. As more information becomes available, it will be posted on the "Get Involved / Sunday School Kids" page of this website in addition to the weekly bulletin.