Hey Kids – Check out what's going on at the church!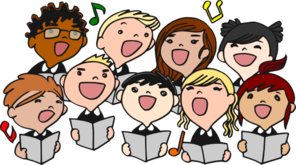 Sunday School kids will sing during Services: (Jan 27)
The Sunday School kids will be singing during both worship services on Sunday, January 27. Please have your children at the church by 8 am for a practice and to line up. Thank you.
Sunday School Substitutes Needed: (sign up now)
We are looking for a few more substitute teachers and volunteers to assist in classrooms. We are also looking for
someone to listen to the kids recite memory work. Let Bobbi Hestdalen, Vicar Brian, Pastor Chris or the office know if you would be willing to help our Sunday School program in any way.
Sunday school wouldn't be a success without our volunteers!
Sunday School:
BSLC offers a Sunday School program for children ages 3 and up during the school year (Sept – May). Sunday School meets from 9:30-10:30 am on Sunday mornings (conveniently scheduled between our two Worship Services). If you have a child age 3 and up, sign them up for Sunday School (the form is located under the "Resources / Forms" tab of this website) or you can pick one up in the Narthex at the church. If you have any questions, please contact the church office.
Sunday School Teachers / Helpers Needed:
If you would like to help our Sunday School program in any way
(ie: teaching, substitute teaching, being that extra set of hands in a classroom, helping with attendance, etc), please contact the church office or stop in the office on Sunday morning to sign up. We can always use a spare pair of hands!
Enroll your Child(ren) at Grace Lutheran School:
Association church members, friends and relatives are welcome to come in right NOW and register for the 2018-2019 school year! With over 500 young people in our association churches, many of them can benefit greatly from an education based here at Grace Lutheran School. Let us take you for a tour of the school to get an idea of what Grace Lutheran is like. We have needs based financial aid with over $100,000 available for your students to attend Grace! Registration is only $50.00 for new families. Give us a call and set up a Care Visit with our Principal or Marketing Director today!
VBS Kids helped battle hunger in Haiti:
This year the offerings received during VBS week went to help battle hunger in Haiti. The island of Haiti has been battling years of drought and hurricanes. As a result, parents struggle to grow enough food for their families. Operation Kid-to-Kid is partnering with World Vision to provide Haitian families with drought-tolerant seeds – A $10 gift provides seeds that can grow into food that will feed a child for an entire year. Our VBS kids are happy to announce that $464 was collected and donated to provide seeds for Haiti.
Do you have Pictures from Church Events?
If you have pictures from church events and are willing to share them, please let the office know. You just never know where we might use them… Thanks!
———————————————————————————————————————————————————————
Sun
day
Sch
ool
Mem
ory
Wo
rk: (2017-2018)
The following note was sent home with all Sunday School children on Sept 17:
"Dear Parents of Sunday School Children: We would like to encourage talking about God's word at home. To help facilitate this, each grade has been given memory work. Please take some time during the week to work with your child(ren) on their memory work. We would like each child to be able to have all of it completed by the end of the year."
In case your child's memory work sheet has been misplaced, just click on the appropriate link to access it:
———————————————————————————————————————————————————————